A fire alarm is a critical piece of equipment for any home or business. Health and safety is one area where corners simply cannot be cut! You need to do everything in your power to ensure that your workforce and your employees are well protected. This is something that requires continual evaluation as well, as regulations and risks change all of the time. With that in mind, we're going to take a look at the use of fire alarms in further detail in this blog post, revealing more about their design, features, cost, benefits, and use.
Why You Need a Fire Alarm for your Business
You may be wondering why you need to have a commercial fire alarm to begin with. Well, there are a number of reasons why this is a requirement, including the following:
Protect the Lives of Everyone Within Your Building
There is only one place to begin when it comes to fire alarms and fire safety, and this is with the human element. Fire is ferocious. It does not sympathize. It does not ease up. If a fire were to break out at your business premises and you did not have an alert system in place, serious injuries and loss of life would be highly likely. A fire alarm is considered the first line of defense because it notifies those within the building of the fire at the earliest opportunity so that they have enough time to exit the building. Combine this with a well-planned-out escape route and 30-minute, fire-resistant construction, and you should be able to ensure that no one ends up losing their life should a fire break out in your building.
Safeguard Your Assets and Everything You Have Worked Hard For
Another reason why you need to invest in a fire alarm system is so that you can protect your business and everything that you have worked for. Just think about what would get destroyed if a fire were to occur at your business. From all of your important documents and data to your computer systems and any product stock you hold, all of this would be lost if a fire broke out and took over the building. While a fire alarm cannot ensure that this is prevented, what it can do is give you the best possible chance of saving your business because you will be able to act quickly. You can get in touch with the fire department at the earliest possibility, which means there is a great chance you will be able to save your business assets.
Fulfill Building and Town Code Requirements
Another reason why you need to make sure you have a commercial alarm installed is that you need to fulfill the building and town code requirements  of your local municipality. Maine towns continue to have stricter fire codes and enforcement, led by, Portland. After all, every government has implemented different rules, regulations, and guidance pertaining to fire safety. It is critical that this is followed, not only in terms of safeguarding human life, but also because your business would find itself in a lot of trouble if it were found to be breaking the building and town code requirements that it must adhere to. Compliance is not optional.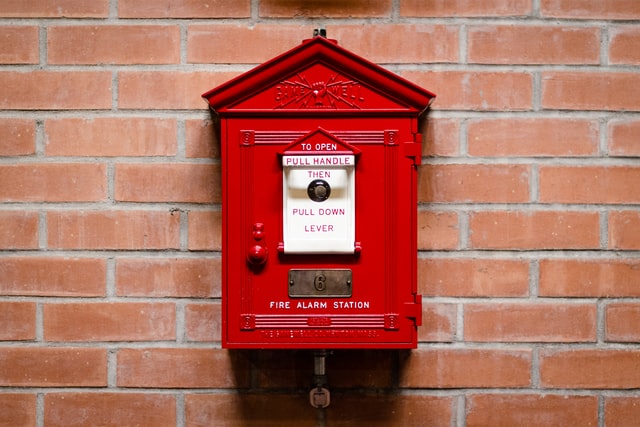 What is a Fire Alarm?
Now that you have a good understanding of the importance of using a fire alarm, we are going to take a look at the typical components of a fire alarm so you can get a better understanding.
The Basic Components of a Fire Alarm
A fire alarm system is a group of different separate parts, which have their own unique function and work together to enhance safety. Five of the key elements you will find in an alarm system are as follows:
Initiating devices

– These are designed to detect fire or smoke. There are many different types of initiating devices, including heat detectors, smoke detectors, pull stations, and sprinkler water flow sensors.
Indicating appliances

– These are responsible for sounding the alarm and alerting people to the fire hazard. Examples include bells, chimes, horn strobes, and in some cases, strobe lights for the deaf and hard of hearing.
Power supplies

– Power supplies cover main power from the breaker, (2) 12V batteries as a backup for a 24-hour period, and sometimes a generator, which offers backup power for the alarm system. After all, any downtime cannot be afforded.
Fire alarm panel

– This is the control panel, consisting of the user interface and central monitoring element of the system. The display will reveal the current state of the alarm, and you can also program the system from here. The panel is the device that communicates with the monitoring station, or local fire department.
Auxiliary devices – There are a number of different add-ons that can be used to bolster the system.
Monitoring of Fire Alarms
One thing that you will need to consider when choosing a fire alarm is the alert system. Some fire alarms will only notify those within the building and the neighboring properties if there are any. There are some residential alarms that are connected to a smartphone of the building owner, ensuring an alert pops up if there are any issues. Such a system can be limited, meaning the owner then needs to get in touch with the authorities, which creates an extra step and draws out the process. This can cost valuable time during a fire, where every second counts to contain the fire and minimize the destruction of property. The best thing to do is choose a monitored fire alarm. The company you purchase the alarm from will monitor signals at a central station, and then they will alert the authorities if a device detects an issue. This is the best way to ensure that any fire issues are dealt with quickly and effectively.
Addressable Vs Nonaddressable systems
Another decision you need to make is whether to go for an addressable or non-addressable system. The main difference between these devices is the manner in which the signals from the connected devices are communicated to the main control panel.
With an addressable system, rather than relying on electrical current changes within the circuit, an addressable system is used, which transfers data from the connected devices to the chief control system as binary code. As these systems make the most of digital technology, they offer a much greater range in terms of the sort of information that the control panel can attain from the devices. The most important sort of data that is provided is where the fire is happening in the building. The exact location means that firefighters know where to go as soon as they arrive.
Some code enforcement requires an addressable system depending upon the property size and the way that it is used. For instance, a large apartment building, college dormitory, or hospital is almost certainly required to have an addressable system installed so that firefighters can quickly pinpoint the location of a fire.
A Fire Alarm is also Important for your Home
While fire alarms are critical in terms of business use, we cannot ignore the importance of their use in a domestic setting either. There have been some horrific stories of domestic fires, not only in Maine but around the world.
By having a fire alarm installed in your home, it can help to protect the life of your family and your pets too, as well as protecting the assets that you have worked hard all of your life for. Another important element of the fire alarms that are available for homes is the carbon monoxide detectors. Carbon monoxide leaks are responsible for a minimum of 430 deaths per year in the United States. An effective alarm system will alert you when there is carbon monoxide in the atmosphere so that it can be dealt with before it starts having a severe impact on your health.
The Difference Between a Commercial Fire Alarm and a Home Fire Alarm
Although both homes and business premises require fire alarms, you cannot use the same sort of alarm for each setting. It is imperative that the alarm is suitable for the building in question.
The fire alarm systems that are found in commercial buildings tend to be a lot bigger in size and they are more complex when compared with alarms in single family homes. Commercial fire alarms require a full fire risk assessment to be carried out, followed by careful design and planning.
You also need to consider the fact that the risks within a commercial setting are often very different when compared with a domestic setting, especially when it comes to large business buildings and environments whereby hazardous materials are used. Therefore, commercial fire alarm systems must account for this.
How Much Does a Fire Alarm Cost?
Of course, the cost is an important factor to consider when purchasing anything in life. And fire alarms are no exception. However, one thing you should never do is cut corners and opt for a cheaper alarm system that is not appropriate for the needs of the building.
There are a number of different factors that will determine how much a fire alarm is going to cost. This includes your location, the complexity of the alarm, how the alarm works, and the security company you hire. Alarms that have remote monitoring services are going to be more expensive, as they demand a monitoring team at a central location, yet they ensure that fire safety is optimized, which can end up saving lives in the long run – something that you simply cannot put a price on!
Popular Brands of Fire Alarms
The brand will also dictate the price, and there are a number of options here, including:
Fire Alarm Inspections
As touched upon in the introduction, fire safety is not something you can address once and then forget about. You need to continually assess your efforts to ensure optimal safety is provided. This is why annual inspections are critical. Inspections ensure that everything is in correct working order so that your building and the inhabitants are protected.
It is also worth pointing out that it is a legal requirement to have your alarms changed. CO (carbon monoxide) detectors should be changed every seven years. Smoke detectors should be changed every 10 years. Inspections have also become a legal requirement in some towns as well, such as in New England.
Inspections tend to be billed per hour, yet it does depend on the company that carries out the work. Make sure you get a quote beforehand.
Cunningham Can Install a Fire Alarm in your Home or Business
No matter whether you require a commercial or residential fire alarm, Cunningham can assist. We ensure optimal safety for your business by carrying out an assessment of the building so that we can design a custom fire alarm for your needs. Cunningham is fully licensed to install any kind of fire alarm in Maine, New Hampshire and Massachusetts. You can reach our team by calling (207) 846-3350. You will speak to a friendly and experienced member of our team who will be happy to answer any questions you may have and provide you with a quote for our services.